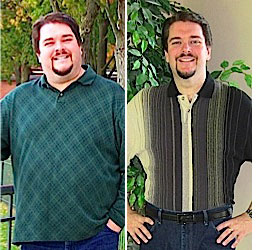 Hi, my name is Phil, and I was fat. (My favorite part of that sentence is was!) I've struggled with being overweight my whole life. I tried various diets, lost some weight but always put it right back on. I had begun to believe that I was just destined to be heavy. As a full-time musician on the road, my hectic schedule and eating habits didn't help! Then a couple of my musician buddies from Oklahoma showed up at a music festival after losing over 100 lbs each! Of course, I had to ask what they were doing to lose the weight. They introduced me to the program I'm on and one became my health coach.

I started the program on Memorial Day 2011 and by Labor day, 15 weeks later, I had lost 60 lbs and 10 inches around my waist! In December I reached my healthy weight - a total of 85 pounds lost in just over 6 months! This has been the easiest program I've ever followed because I feel great, I never get hungry and I have a buddy who is supporting me every step of the way. Plus I finally have all the tools to keep the weight off for good. I feel that I have been blessed with a new lease on life, and am excited to pass this blessing on to so many others who are struggling just like I was.

How about you? Are you feeling overweight, tired, or simply unhealthy? Have you tried to lose weight and failed?

Now is your time to win! I know the program works and I know you can do it. I've put together a series of videos (right over there>) to guide you through each step of the process. We can do this together! Are ready for a new you??

Just e-mail me at formerlyfatphil@gmail.com or call 816-578-4197 to get started!