CAULIFLOWER SOUP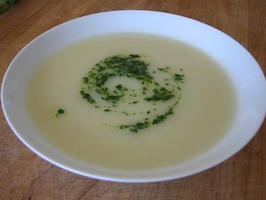 1 Tablespoon butter, plus 2 Tablespoons for optional garnish
1 onion, roughly chopped
1/2 teaspoon fine sea salt, plus more to taste
2 cloves garlic, chopped
1 head cauliflower, chopped
2 cups Low Sodium Chicken broth
1/4 teaspoon freshly ground white pepper, plus more to taste
1/8 teaspoon freshly grated nutmeg, plus more to taste
1 to 2 cups low-fat or whole milk (or Almond milk!)
2 Tablespoons finely chopped parsley, optional
In a large pot over medium heat, melt 1 tablespoon of the butter. Add the onions and salt. Cook, stirring occasionally and adjusting heat so onions are cooking but not browning, until onions look starchy and a bit creamy, about 5 minutes.
Add the garlic and cook until fragrant, about 1 minute.
Add the cauliflower, stir to combine, cover and cook 3 minutes. Add the broth, bring to a boil, reduce the heat to maintain a steady simmer, and cook the soup until the cauliflower is tender to the bite, about 10 minutes.
Purée the soup with a hand-held blender. Or, whirl in batches in a blender or food processor until smooth (place a kitchen towel over blender to prevent potential burns).
Stir in the pepper and nutmeg. (Note: At this point the soup may be cooled, covered, and frozen for up to 4 months.)

Add the milk and cook over medium-low heat until the soup is hot. Taste and add more salt, pepper, and/or nutmeg to taste.
(Meanwhile, if you want to add the parsley butter swirl, melt the remaining 2 tablespoons of butter and stir in the parsley.)
Serve hot, with a swirl of parsley butter, if desired. - Serves 8 (1 cup each)